Lobby and Battlespace
Lobby
After logging into the M4 Tank Brigade Online game, you will see the Lobby.
From the lobby, you can see what the status of each BattleSpace is:
In Recess - The BattleSpace is between sessions currently.
In Progress - The BattleSpace currently has a game in play.
# of Players - This is the number of players in each BattleSpace.
Time Left - This is the amount of time remaining before the status of the BattleSpace is updated.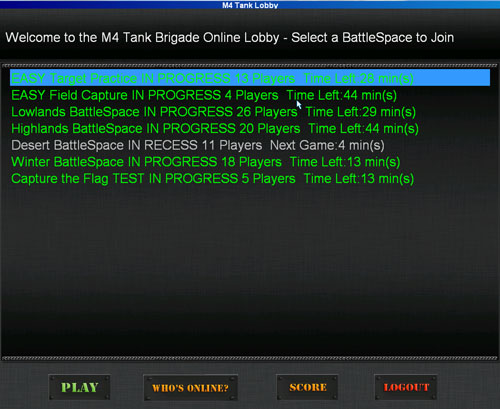 BattleSpaces
BattleSpaces are special arenas with specific maps. We have the following BattleSpaces:
Highlands BattleSpace
Lowlands BattleSpace
Winter BattleSpace
Desert BattleSpace
Arenas
Another feature you'll see often in the Total Simulation Series games is the Arena. An Arena is a map that serves a specific function. During the Beta period, you'll find the following Arenas in the Lobby:
Capture the Flag Test
EASY Target Practice
EASY Field Capture
Playing in an EASY Arena, you will find the following differences than if you were playing in a BattleSpace:
You can't get shot.
Your scores do not count.
All human players are on the same side.