M4 Tank Brigade : WORLD WAR II ACTION TANK WARFARE!
From the Producer of the Famous, M1 Tank Platoon
SUMMARY
Genre: Action/Sim, Shooter, 3rd person
Launch Date: Q3 2011


Violence

Platform(s): PC / 1 DVD
Number of Players: 1 - MMOG
Target Age: 12 - 45
GAMEPLAY OVERVIEW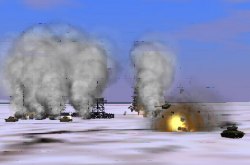 M1 Tank Platoon was one of the very best games of MicroProse Software. Now the producer and director of the M1 Tank Platoon product, Wild Bill Stealey, Founder of MicroProse Software, is back with a new version of his famous M1 Tank Platoon game with a game for World War II, M4 Tank Brigade.
What made M1 famous was its combination of strategy and tactics. Not only can you fire and fight from individual armored vehicles but you can also be the General controlling where you send your Brigades to accomplish the strategic missions using the interactive tactical map.
The new Enhanced Graphics (EG) system, just implemented, gives players fast combat armored battles across the embattled battle spaces of Europe during WW II with a brand a new polygon display system, including more detail in the tanks, the terrains, and all the special effects. New sounds, new tracers, and new explosions greatly enhance the M4 Tank Brigade, EG experience! And now you can use Artillery on your enemy and call in combat aerial attacks from aircraft on your side! But the enemy can do that to you too!
M4 Tank Brigade promises to become the standard in World War II tank games with explosive gameplay, unparalleled realism, and beautifully rendered, historically accurate terrains, all from the battlegrounds of the Ardennes Forest. Choose to battle with 10 different World War II combat vehicles, including Shermans, Pershings, and the intimidating Panzer tanks!
M4 Tank Brigade brings a full Campaign mode where players start in early WW II tanks and progress through the years of 1939 to 1945 getting better and more deadly tanks as the war goes on. Players can play from either the Axis or Allied sides. The single player game also includes Training Missions, Instant Action Missions, and exciting Massively Multiplayer Online Game Play!
Some of the Campaign Missions are briefly outlined below. Players will relive the blood-chilling excitement of the fight with each mission.
The game does not end here though. Players can enter iEntertainment Network's acclaimed massive online network, providing countless hours of intense battle and endless fun battling it out with other "online soldiers" from around the globe. Visit TotalSims.com to register.
Special Feature of M4 Tank Brigade, just like the famous M1 Tank Platoon from MicroProse-Tactical Combat Map to control the entire Battlefield in real time!

Enables player to send his Brigade or individual tanks to specified map positions to take on the enemy based on the player's command decisions!
Player can jump between tanks, taking fire control, so the player is always in the Middle of the Best Battles!

New Mass Artillery Fire Function- player can use Tactical Map to drop artillery fire on the enemy; but don't slow down as you race to the target, the enemy can do the same to you!
New Airborne Reconnaissance Feature- player can call on the Tactical Map for airborne assistance to recon the battle area or attack the enemy; watch the P-51D's attack the enemy tanks!
Single player missions include:

Training

Movement
Advanced Movement
Gunnery Recruit
Gunnery Intermediate
Gunnery Advanced
MG Gunnery (Machine Gun)
Live Fire I
Live Fire II
Live Fire III

Campaign Battle Spaces Include:

Highlands Battle Space
Winter Battle Space
Lowlands Battle Space
Desert Battle Space
Each from both Axis and Allied viewpoints
SELLING POINTS
Follow on to the World Famous "M1 Tank Platoon" from MicroProse Software The fun and excitement of the original M1 Tank Platoon is back from IENT CEO Wild Bill Stealey who was the person who thought up the original M1 concept, acted as the game producer, and acted as the head tester for the original M1 Tank Platoon when he was Founder and CEO of MicroProse Software.
Proven Track Record. M4 Tank Brigade, the WWII ground simulation is built upon the framework of the widely popular gaming system and concepts of the WarBirds TotalSims series of military games, deemed the "top of the online flight-simming pyramid"1 and several time winner of "simulation of the year" awards.
Campaign and Single-player options. The new 'ease of use' interface will have the players immersed in the exciting single player action in no time! Players get dozens of missions and campaigns, including Training and Practice, Instant Action, and an integrated Campaign – these missions provide explosive, action-packed gameplay that will transform a novice pilot into the most feared Tank Commander of the Great War!
Multiple Skill Levels for Beginners to Experts. Enjoy M4 Tank Brigade as an arcade game or as a simulation. The arcade level is Tanker, which has an outside third person view, a gunsight that can be used outside, auto targeting, and auto drive features so even the most raw recruit can find the battle to engage the enemy! The player moves on to Gunnery Sergeant, Tank Commander, and then Brigade Leader. Each level moves the player more and more to the ultimate simulation of real tank combat during World War II.
New Player Support. M4 Tank Brigade delivers exciting and helpful options to make driving and gunning a breeze for new players. All the commands and keyboard keys will be available while the game is playing with easy access.
New Role-playing Reward System. M4 Tank Brigade introduces its new role-playing reward system that invites players to become immersed in their personas by allowing them to grow in rank and medals as they successfully complete missions.
Historical Accuracy and Remarkable Detail. M4 Tank Brigade dedicates itself entirely to the same remarkable historical accuracy and attention to detail that has made the WarBirds series one of the most visually impressive war sims ever.
A Wealth of Options. Players can choose from countless online scenarios, modes and options that gives M4 Tank Brigade a stunningly deep playing experience. Pick from over 15 historical ground vehicles and an array of WWII aircraft, each with its entirely unique combat characteristic and "personality," making each game a new experience.
Online Play. Master the single player missions and training and you will be ready for the next step – battling other live players online! Play in the online arenas for Free for 30 Days and join the TotalSims community arenas where hundreds of players recreate the actual missions of World War II. The TotalSims online community has consistently been rated one of the best and most helpful to beginners, providing a perfect environment for non-experienced and veteran players alike.